Considering how quickly Coconut Whisk has gone from being a Big Idea at Mankato State University to a popular baking mix brand within the booming category of plant-based food, we thought we'd ask co-founder Bella Lam to share a little advice for any fellow entrepreneurs who also prefer doing things a little differently. (Rather than go the tried-and-true MBA route, Lam studied Community Health Education—a logical jump from her love of yoga and increasingly health conscious lifestyle.) 
"We don't need more businesses that are clamoring to get to the top," says Lam, who started Coconut Whisk with her partner, Myles Olson, in 2018. "We need more businesses that are rooted in a deep sense of purpose to serve the world in a way that's healing." 
She continues, "My advice for any entrepreneur is to get conscious of what it is you want and make sure it is truly helping the world. If you come from a place of genuine passion and truth, you'll be unstoppable."
Lam and Olson's momentum with Coconut Whisk over the past year has been quite palpable; aside from continuing to expand the brand's reach within retail stores, the couple opened a beautiful, sun-baked cafe right across from Target's downtown flagship last spring. More than just a brick-and-mortar version of their vegan and gluten-free treats, the airy space also specializes in bubble tea breakthroughs like a Vegan Mylk Cloud™ topping inspired by Taiwan's "cheese tea" craze. 
In the following interview, Lam discusses everything from ethical eating to Coconut Whisk's brief, ill-fated brush with Shark Tank.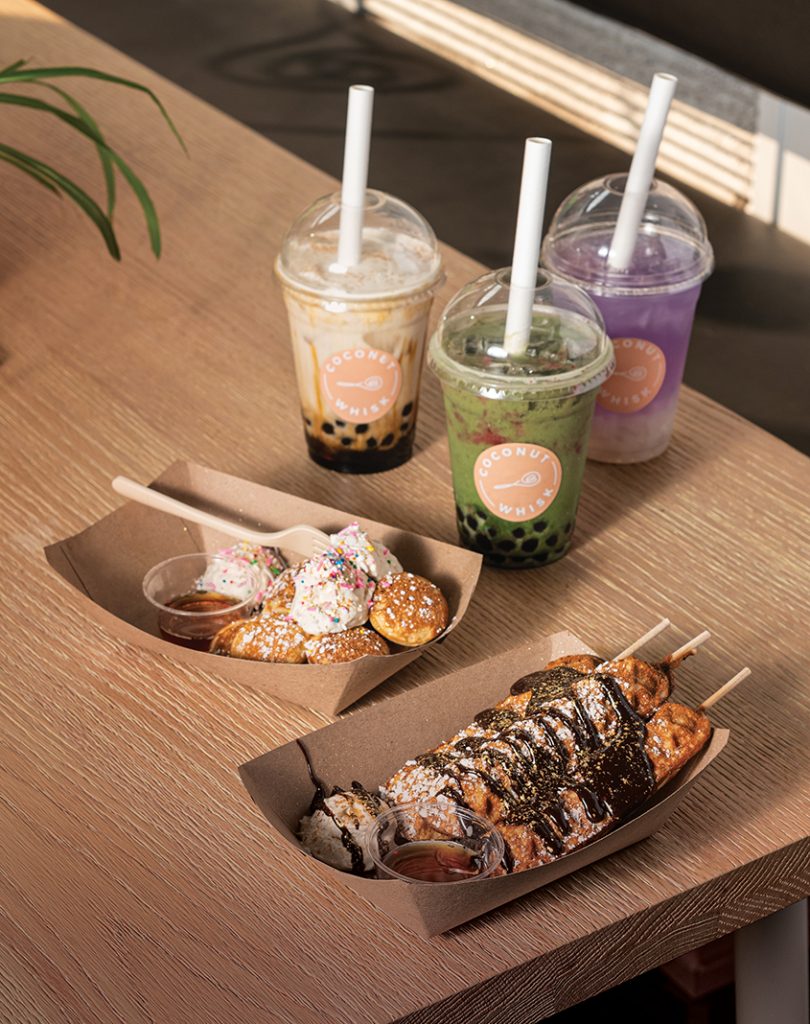 Can you start by telling us a little bit about your background? Are you originally from Minnesota?
My family moved from Vietnam to Minnesota when I was 6 years old. We landed with just a few thousand dollars and not a lick of English. It's been survival for my family for as long as I can remember.
What are some of your earliest memories of living here?
Walking to the bus stop with my dad and brother in the cold! We didn't have a lot, but I remember growing up with parents, family members, and teachers who took care of me and encouraged me to do well in school and beyond.
Was food really important to you and your family when you were growing up?
My parents were always exceptional cooks; they made a lot of traditional Cantonese and Vietnamese dishes—stir-fried veggies, soups, rice, etc. One dish that I remember vividly that introduced me to American cuisine was making pancakes with my American-born cousin. I developed a love for pancakes and baking through her.
Why the love for baking rather than more savory dishes? Have you always had more of a sweet tooth?
I love Cantonese and Vietnamese dishes, don't get me wrong. But growing up, my mom and dad always were such pros in the kitchen. I wish I was able to be as good of a cook as them, but I'm not. I do hope to learn, [though]. I think the reason baking resonates so much with me is because it's my own thing that I can bring to the table for my family. Food is a big part of my culture. It's the way love is communicated.
Are there any particular dishes that'll always remind you of that love—ones that epitomize your family's idea of comfort food?
Hmm; I would say soup. Any leafy, green, and light soup makes me feel at home.
When did you first learn how to cook on your own?
In college. That was also the time I went vegan, so I learned how to blend my culture, love of food, and plant-based living together.
Did a certain book or blog make you more interested in wellness, and help you realize it was something you wanted to take seriously?
The desire to go into wellness and personal development started when I was 17 years old. I took a yoga class at a local gym; I think it changed my life. That was the first time I was introduced to spirituality in a way that made sense to me. It was all about mind, body, and spirit. It sparked my desire to learn more about personal growth, mindset, and manifestation, and it led me on a path that has allowed me to live a life beyond my imagination.
Has learning more about yoga and meditation brought you more in line with some of the Buddhist teachings you were brought up with, or does Buddhism still feel too much like a "religion"—less about spirituality and the mind, body, and spirit than about adhering to a very specific view of the world?
Great question! While my family is Buddhist, we didn't do so many rituals around it. So yoga and meditation is the ritual that I lean on; it makes me feel closer to Buddhism and all the philosophies in it. I admire Buddhism because I feel like it's a religion, but also very connected to spirituality. It brings you in better alignment with your mind, body, and spirit naturally. And it's as much or as little as you need it to be because we are all on our own path and journey toward enlightenment.
What kind of yoga do you practice? Do you find it difficult going a day without it since it's so centering—a surefire way to put things into perspective and feel ready to take on whatever life has in store for you?
I love practicing vinyasa flow and simple sun salutations in the morning. I do flows throughout the day to get my mind, body, and spirit aligned; it's the best way for me to gain clarity and centeredness. Since I am so action-oriented, purpose-driven, and focused on vision, it's important that I balance that with practices like yoga, meditation, and mindfulness to ground me to my essence. It helps me remember that the goal is to enjoy the present while working towards a better future for all. I can't contribute the way that I want if I'm running on empty.
Why did you ultimately decide to study Community Health Education, and how have you brought what you learned in that program full circle with what you're doing now?
I loved the idea of [Mankato State University's] Community Health Education program because it's at the intersection of a lot of my passions. I knew I wanted to help others live healthier, better lives and since I didn't know exactly what I wanted to do in health, I thought this major was broad enough to commit to. The program also introduced me to a lot of people that had similar interests as me.
Who were a few of those people, and how did they impact your personal growth in other ways?
My professor, Dr. Luebke. She was the most gentle and beautiful spirit who made me appreciate yoga more, and the importance of accessible health services in the community.
How did you and Myles meet, and what was your first impression of him?
[Laughs] I met him at a bonfire in high school; I believe I was a sophomore. My best friend at the time was dating his twin brother and that's how we first got introduced. We were friends for two years before we officially started dating.
My first impression of him was trust. Something about his energy and aura gave me comfort. We've grown so much since that bonfire, and it's been such a gift to experience life together. We just celebrated our seven-year anniversary in August.
Was the decision to go vegan mutual, or was one of you more into the idea at first?
It was definitely my idea.
What were some of the biggest reasons you decided to commit to that lifestyle? Was it for health reasons? Ethical reasons? A little bit of both?
Since I was studying public health at the time I went vegan—my sophomore year of college—I was already surrounded by a lot of veg-based folks. But what made me commit to living plant-based was a documentary that I watched one night; afterwards, I went down a research frenzy. I decided to go vegan for a little bit of everything—health, the planet, animals….
Are there any books or other films from that time period that you'd recommend to other people considering veganism or a more plant-based diet?
Forks Over Knives, Cowspiracy, The Game Changers. There are so many good ones!
Did your family find veganism difficult to understand at first?
Since we're Buddhist, my parents are familiar with the concept, but it was difficult because in the beginning, I had to turn down dishes they'd prepared and that would be really hard for them to understand. But now, they totally get it!
What's one favorite traditional food you really really hate having to turn down and why?
Hmm…. I didn't grow up loving red meat or anything, so that's fine, but honestly it's probably the flan dessert pudding my mom makes.
What's one of the best and worst things about being vegan?
The best thing: It inspired me to start Coconut Whisk. The amazing people I've met through this community, and the health benefits, are off the charts. The worst thing: Having to turn down some of my favorite traditional foods.
When did you first come up with the idea for Coconut Whisk? Why baking mixes? Was it because you saw a clear void in the vegan market for them?
The idea came to me in 2018, when I was a senior in college. After being vegan for two years, I realized that I really missed playing with baking mixes. I was always a big fan of Betty Crocker, so when I couldn't find anything, I got the idea to create some on my own.
How long did it take for you to develop, and dial in, your main baking mix recipe? 
We're still reformulating the recipe to this day but it probably took a year to get a solid recipe. The key was to create a minimal viable product and then test it out with customers. That's how to learn and get constructive feedback!
What were some of the most difficult things about getting a plant-based baking mix right?
Not only were we doing vegan [food], but it was also plant-based, so we had to literally reinvent the entire "classic" recipe for baking.
A lot of natural-born entrepreneurs think they need a business degree to pursue their dreams. What advice would you give them? Is it a lot of trial and error? Reading the right books? Simply going for it, and burning the proverbial candle at both ends, when you have a truly unique idea you believe in?
From personal experience, and from learning from other entrepreneurs, I think the best leaders are the ones who weren't born to be powerhouses. They're usually the underdogs who didn't have anything given to them. They learned how to be gritty, resourceful, and resilient from a young age. And when the right time came, they took action towards a problem that they wanted to solve.
I didn't have a business degree and I certainly didn't see myself as a leader. I learned how to rise to the occasion because the world demanded that of me. My passion and vision demanded me to step out of my comfort zone and go for it. I believe that's how you learn, grow, and create something of true excellence.
What's this business about you trying out for Shark Tank?
[Laughs] We auditioned for Shark Tank a few years ago after a colleague referred us. We found out that there was a casting call two days before it was happening, so we practiced a quick pitch and made it to the second round. At the time, we were way too early and didn't have any real plans to fundraise, so that's really the [whole] story. We may audition again, but we're in no rush! It was a really fun experience.
Did you always have the goal to open a proper Coconut Whisk cafe?
Nope! And that's the funny thing about business; when you keep your heart open and make real connections with the community, incredible opportunities like this one organically presents themselves!
Was translating a baking mix-based business to a cafe pretty seamless, or a little tricky at first?
I would say it was seamless yet tricky. We used our best-selling pancake/waffle mix as the center of our menu, but had to develop a whole drink menu. This was my first time operating a food/brick-and-mortar business, so it was a completely new and lesson-filled experience.
Tell us about your menu—about how, and why, you decided to offer a tightly edited mix of bubble tea, pancakes, and waffles.
Great question! We always had a mindset of simplicity, and that philosophy didn't change with our cafe. We decided to mainly highlight our reimagined pancakes/waffles because with our baking mixes, that mix was the top seller. And to pair pancakes and waffles, we decided to incorporate bubble tea since that's a drink I've always loved and the demand for it is now higher than ever before, which is really exciting. I feel like our current menu is a blend of cultures that I'm so proud to bring to the community! We're expanding our menu to add savory [dishes] in the near future, so we're really excited about that as well.
When did you come up with the Vegan Mylk Cloud and why did you feel the need to literally get it trademarked?
Honestly, the idea for a Vegan Mylk Cloud came from my infinite love of the cheese foam topping at speciality boba shops. I got a soy version at a Chinatown once and instantly fell in love with the concept. We trademarked it because I see it as just good business practice. We've had some issues in the past with our name needing trademarking and us running into conflict so I learned my lesson!
Did someone else claim to already have the name Coconut Whisk and serve you with a cease-and-desist letter?
Well, the trademark office didn't approve our name at first because there was a bakery in Utah who had the name Le Whisk. But we ended up paying $2,000 for the other company to allow us to use that name [laughs].
What was your vision for what Coconut Whisk's space needed to look like—the vibe it needed to evoke?
The vision for the space happened so organically and beautifully. I knew that I wanted to create a space that felt like a warm, welcoming, and joyful oasis in the heart of the city. Something that shared a little of my heritage and culture and the feelings of being in mother nature.
What are some must-try items at the cafe and why?
The Dirty Mylk Boba is a must-try! I love Mom's Favorite Cereal; it's super simple, but the cinnamon/sugar and Mylk Cloud add-on is heavenly!
If all goes well with the cafe, do you have plans to expand within the Twin Cities and elsewhere?
We've had inquiries from a few people about franchising, which is really flattering, but we've only been open for a few months. It's a little too early to say, but I can definitely see more cafes being a possibility. However, we are really focused on growing our packaged goods side of the business because that's where we see us being able to make the most impact. So we hope to keep growing our online reach and also our retail footprint!