The following story is taken from October, the craft beer site Condé Nast and Pitchfork Media shuttered in early 2021.
Despite its reputation as a rough-it paradise for homesteaders, survivalists and Sarah Palin, Alaska's tourism industry isn't driven by intrepid travelers. Instead, it's dominated by package deals and mega cruise ships that crowd shorelines like self-contained cities full of well-meaninged honeymooners and retirees.
There's nothing inherently wrong with having someone plan your vacation in a state as sprawling as Alaska; after all, it's largely uninhabited and bigger than Texas, California and Montana combined. But it's hard to appreciate pristine national parks, electric blue icebergs and wildlife that's actually wild when you have to be in the buffet line by 6.
Better to hit the open road in a rental car and set your own schedule alongside the sort of landscapes you'd normally spot in National Geographic. Did I mention the breweries? They are spread throughout the state like veritable beacons of hope for hop heads.
Here's how to make the most of five crucial stops along the Last Frontier….
Juneau
Despite Alaska's well-deserved Wild West rep — see: Mark Adams' recent book Tip of the Iceberg — most of Juneau's restaurants close by 9 p.m., when the day trippers dissipate and everyone else is huddled up at home or a wood-paneled hole in the wall. To complicate matters even further, its two brewers — the newly christened Devil's Club Brewing Company and its decades-old grandad Alaskan Brewing Co. — have to adhere to Alaska's rigid taproom laws. Chief among these constraints are a comical last call of 8 p.m., 36-ounce drink limits as well as a blanket ban against live entertainment and board games.
"I think it's more frustrating for customers than it is for us," Devil's Club co-founder Evan Wood says. "It's like 'Uncle Alaska' is breathing down their necks. I've had to tell 8-year-old kids they aren't allowed to play UNO with their family. Try rationalizing that to a child; it's ridiculous."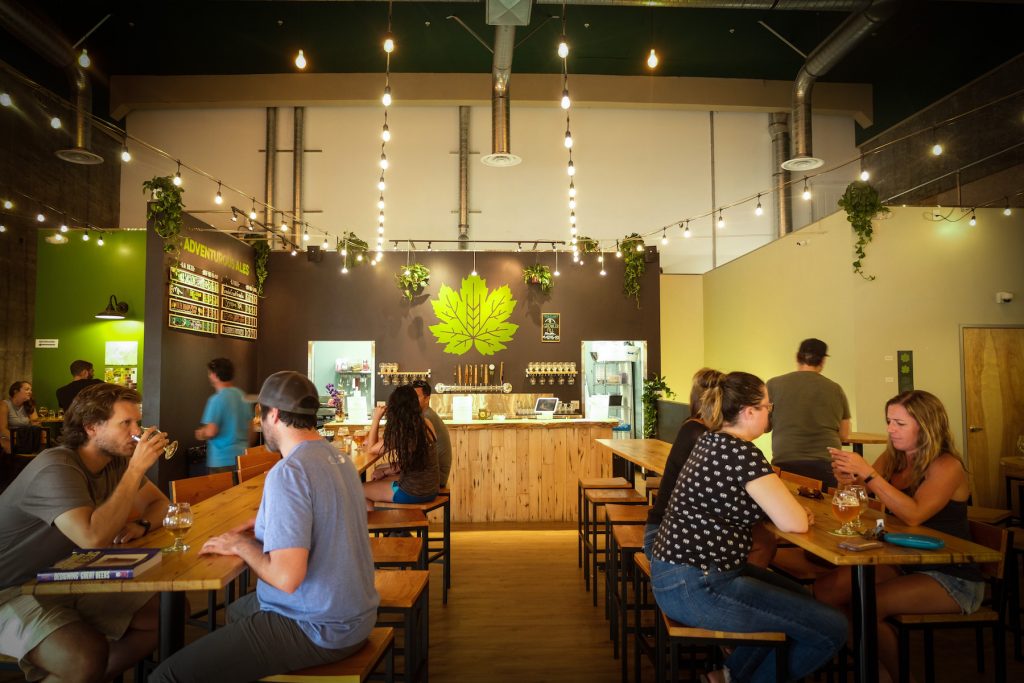 Rules and regulations aside, everyone's in good spirits at Devil's Club. Maybe because it's a point of local pride many locals helped fund. Wood and co-founders Jake Ridle and Ryan Lindsay raised nearly $30,000 on Kickstarter to help turn the 102-year-old building that housed Juneau's Palace Theatre into a wood-paneled brewery, where rows of communal tables offer a place to explore 'Adventurous Ales'.
"We love making beer on the 'cutting edge'," says Wood. "Sours, American saisons, imperial stouts, hazy IPAs…. We assumed Juneau wasn't quite ready for a lot of those styles, but they eat them up faster than anything else."
A revolving door of eager newbies visit Alaskan Brewing Company on a daily basis as well, despite its gift shop decor and low-key location 15 minutes outside Juneau's main drag. And who can blame them? Marcy and Geoff Larson have shaped Alaska's craft sector since the late '80s. Their legacy courses through the carefully calibrated veins of a $25 tasting that includes seven rotating samples and transportation to and from downtown. Far more exciting for discerning drinkers are exclusive "rough drafts" that never leave the premises, such as a black currant gose, ginger shandy and cherry sour that let Alaskan's gray hairs down a little.
Anchorage
Cynics who live outside Anchorage have a saying about this city of nearly 300,000 people: "The best thing about Anchorage is that it's just 30 minutes from Alaska." Which is a roundabout way of saying you should leave the bear spray at home and forget any fantasies of reliving stylized reality shows like Deadliest Catch and Life Below Zero.
But really, it's their loss, especially when it comes to craft beer. While the number of progressive breweries and bars in most Alaskan towns and cities can be counted on one hand, Anchorage has been regularly adding new ones; two of the very best are less than 10 years old.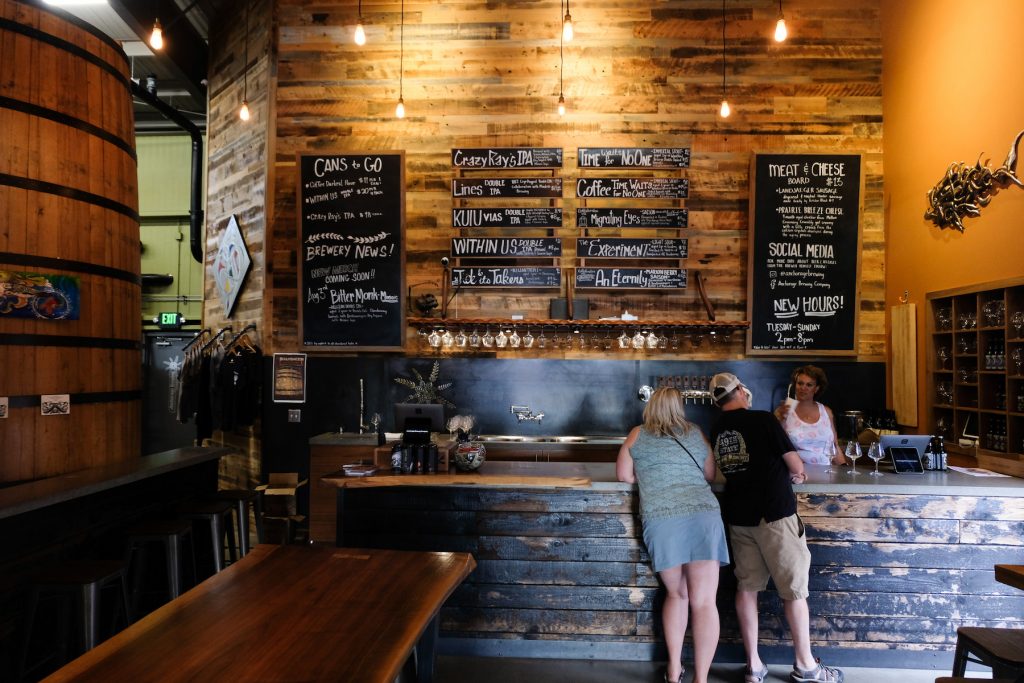 Gabe Fletcher, longtime head brewer at Anchorage's old guard Midnight Sun Brewing Co., opened Anchorage Brewing Company in 2011. It quickly earned a cult following thanks to a coveted lineup of wild ales and barrel-aged beauties that numb the pain of never-ending nights and ruthless winters. Determined Lower 48 devotees can sometimes find its bottles due to a distro deal with Shelton Brothers, but nothing beats a couple fresh pints in Anchorage's taproom. Blurring the line between a brewery and bar, it features a couple foeders that were turned into trippy seating areas as well as onsite-only sales of robust double IPAs and smooth imperial stouts that came off the canning line the day before.
Ted and Mary Rosenzweig's Turnagain Brewing celebrated its soft opening last summer, building upon decades of home-brewing experience and their respective science backgrounds in medicine and biology. The couple's taproom is modest compared to Anchorage's, but equal in its ambition when it comes to pushing the Alaskan palate into the realm of artful sours, saisons and Belgian-style ales. To do so, they cultivated their own wild cultures and source local ingredients, such as raspberries, to create an exemplary framboise and oude framboise. As Ted puts it, "Our motto is 'passionate scientists, living the dream, responsibly making unique beers with the flora found in the world's most beautiful place — Alaska!'"
Denali
The area surrounding Denali National Park & Preserve is Alaska's most popular destination for several reasons. There's the park itself, which boasts breathtaking scenery that can be seen from just about anywhere. Couple that with a dense cluster of crowd-pleasing shops and restaurants — located just five minutes outside the front gate — and it's easy to see why outdoorsy families and lively AARP members keep the place busy from June through September.
But Denali also has a dark side: the Stampede Trail that claimed the life of Christopher McCandless and other amateur hikers who followed the folk hero's footsteps after reading Jon Krakauer's best-selling book Into the Wild. Nearby, the Healy flagship of 49th State Brewing Company acknowledges the romantic allure of McCandless' ill-fated journey by parking his backcountry bus just outside the door of their packed brewpub.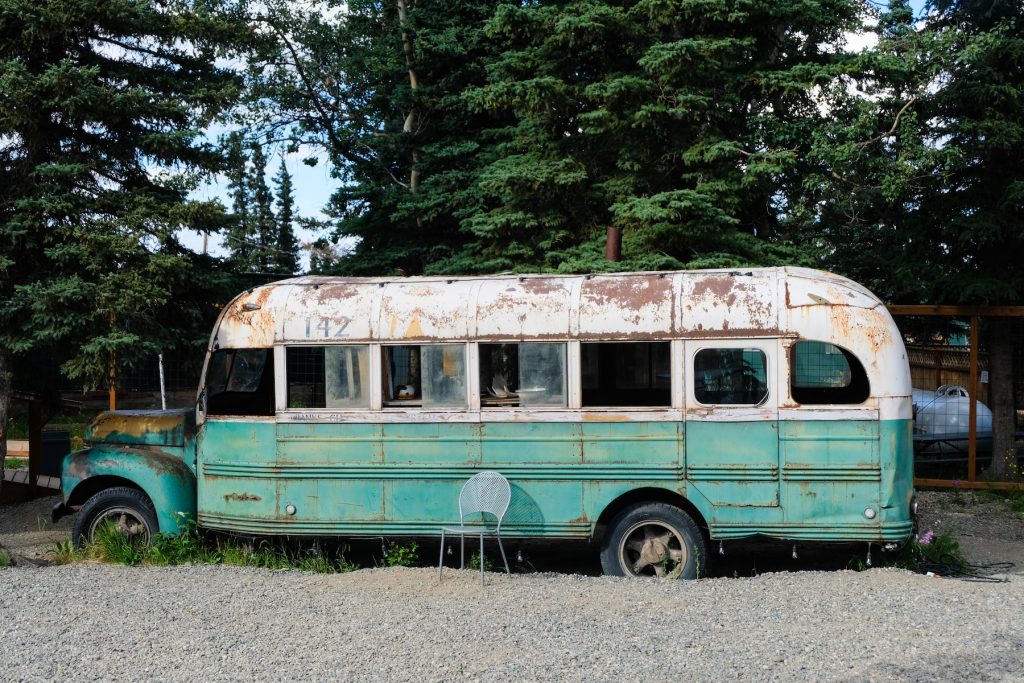 Well, kinda. Take a closer look and you'll see it's actually the rust-and-all prop used in the Sean Penn film adaptation. Head brewer David McCarthy and co-founder Jason Motyka put it here to encourage photo ops and reflections that don't involve 20 miles of man-eating mosquitoes, fearsome mud flats, and unforgiving river crossings. While it's a popular selfie stop for first-timers, return visitors walk right past it so they can score a table inside 49th State's bustling brewpub. With a menu that fits its ski lodge vibe like a pair of mittens — everything from a 'best in town' plate of fish and chips to buffalo meatloaf wrapped in smoked bacon — as if Alaska decided to get hygge with it. McCarthy's beer recipes hammer that point home by incorporating Far North ingredients such as rhubarb, birch syrup and spruce tips. Even his amber is slightly experimental and a nod to what Alaskans really drink.
"Many Alaskans consider amber ales to be a tourists beer," McCarthy explains. "So we created an amber lager that is specifically designed for Alaskans. It's less sweet and more sessionable. We call it 907 because it connects all Alaskans. Now it's more than our state's area code; it's a beer that we can all enjoy when we come together."
Talkeetna
One worthwhile detour at the halfway point of the five-hour drive from Denali National Park to Anchorage is Talkeetna, the small Alaskan town (population: 876) that loosely inspired the surreal television show Northern Exposure. Tourists descend on its main street like hungry locusts during summer's main stretch, but don't let that deter you from getting fireweed ice cream at Shirley's or a proper meal at Denali Brewing Company. The latter faces its lunch crowd head-on with beer-battered Alaskan cod, several artisanal sandwiches and an ambitious mix of housemade beer, cider, mead and spirits.
"The best part is when you pair salmon caught by a local fisherman in the Cook Inlet with a Birch One Tree," co-founder and general manager Sassan Mossanen says. "It's a Belgian Golden Strong made with locally produced birch syrup. You're truly experiencing what it means to drink a beer in the shadow of Denali."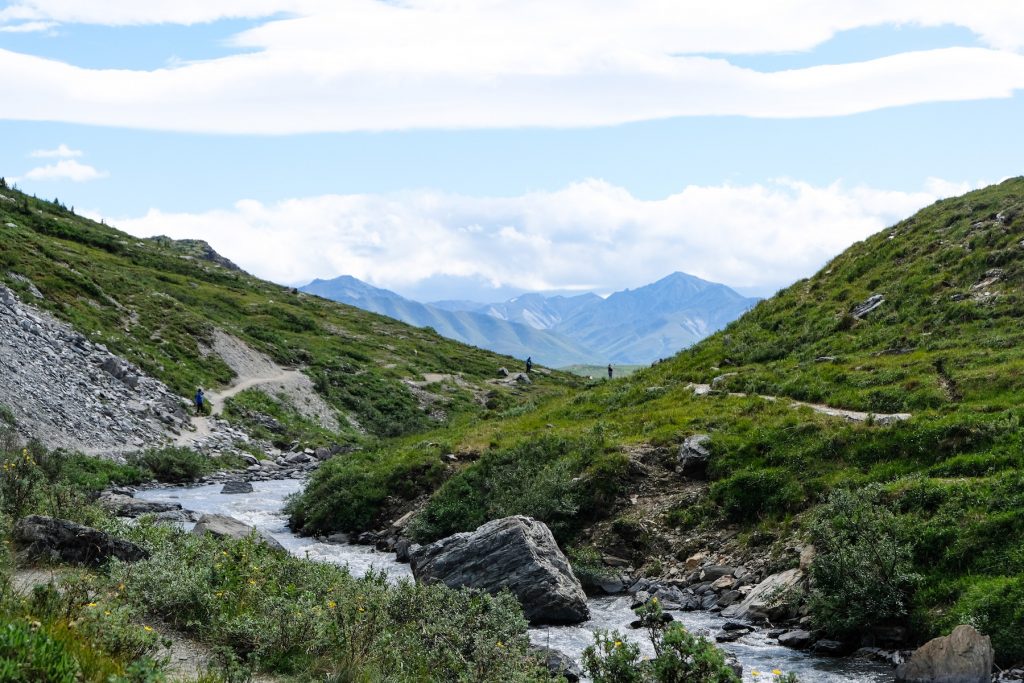 It's easy to overlook limited releases like this when scanning Denali's something-for-everyone menu, so be sure to seek out for everything from a bottle-conditioned saison to a Flanders-style red ale. Mossanen has also spearheaded several collaborations with Nøgne Ø, a liked-minded brewery from Grimstad, Norway. The pair started with a chaga mushroom milk stout and is currently working on an oak-aged steinbier. True to their shared love of the great outdoors and ancient brewing techniques, it used hand-picked juniper berries and boiled the wort with scalding hot stones instead of a proper kettle.
"People often ask me why we decide to brew here," Mossanen says. "While it's true that brewing near the end of the road in a place with an extreme range of temperatures isn't easy, the Alaska community is part of the recipe."
Girdwood and Palmer
Tacking on a day trip is one way a craft-beer fan can witness "true Alaska" before heading home. A few options lie within an hour of Anchorage, but the most picturesque is the tree-lined path that leads to Girdwood Brewing Company in Girdwood. Tucked away in ski country, its New England-style No Woman No Cryo IPA wraps the haze craze in a cozy flannel of Cryo Hops, dank aromatics and a potent 7.5% ABV. Girdwood also keeps regulars guessing with rotating taps of short-run beers, including fresh takes on a double dry-hopped sour dubbed Dysfunctional, imperial pumpkin porter called Gourdwood and eminently drinkable session IPA by the name of Fairy Dust. When the months are warm, you can also celebrate beluga whale season with food trucks that serve everything from poke to Frito pies.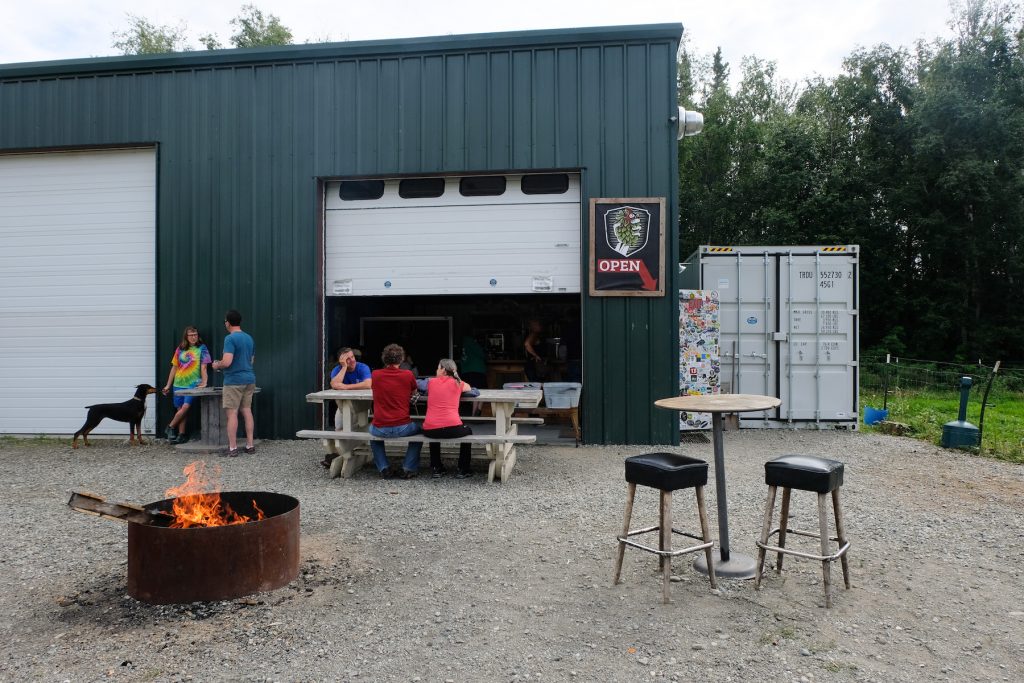 If you'd rather not hit the slopes, farm country can be found in the small town of Palmer. Zack Lanphier and Stefan Marty's Bleeding Heart Brewing hides in plain sight here, earning its destination brewery status among a 40-acre homestead and dairy farm that was first set up in the late 1930s.
"Stefan actually grew up in the colonial house that's in our parking area and played in the barn that is now used for Angus cattle," Lanphier says. "I grew up just a mile down the road, playing in hayfields and the Matanuska River. Farmland is in our DNA."
That love of the land shines through idiosyncratic farm-to-flight beers such as a blood-red beet IPA, blonde ale laced with locally sourced honey and double IPA brewed with purple carrots. Bleeding Heart also brewed the first beer certified by the state department of agriculture, with every ingredient grown, harvested and processed in Alaska. No wonder why the duo's motto is "drink like you give a damn."
"Now that there are nearly 40 breweries in the state, I am always surprised by the lack of 'adventure' or 'spontaneity' in the beer community. You can always find a good stout, blonde, IPA or Kölsch, if you know where to look, but we wanted more and we wanted it local,"  Lanphier says. "We've been labeled the 'bad boys' of Alaska's brewing culture. As one of the smallest breweries in the state, we have one of the largest attitudes! We try not to take anything too serious, though. After all, we're just making beer."