When Chef Jonathon Sawyer decided to open his own restaurant in 2008 after a promising run at Parea — Michael Symon's well-reviewed, but short-lived swing at the New York market — the Cleveland native did the unthinkable: he brought his very best ideas back home.
"People thought I was crazy," explains Sawyer. "They said, 'It'll never work. No one goes to Cleveland.'"
Boy, were they wrong. Aside from his own success with The Greenhouse Tavern— a downtown staple that earned Sawyer a coveted James Beard nod in 2015 — the city has seen a noticeable spike in its tourism numbers. (A steady increase of about 800,000 people a year since 2009, with plans in place to reach 20 million visitors by 2020.)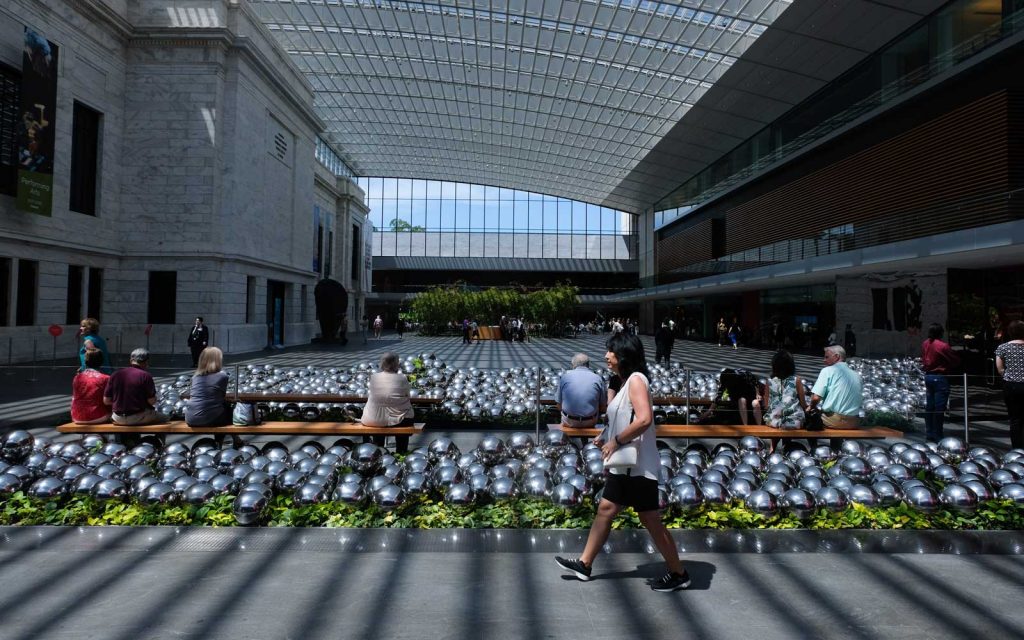 One of the major reasons to visit these days is the area's strong arts scene. While its roots can be traced back to the John D. Rockefeller era — when the Rust Belt was rich, and decades away from oxidation — Cleveland's leading cultural institutions didn't really double down on securing the city's artistic future until recently. More than $500 million in private and public funding has poured into renovation efforts over the past decade, with the world class Cleveland Museum of Art leading the way. By the time the ribbon was cut on its eight-year expansion in 2014, a $755 million dollar endowment made it the country's fourth richest art museum, trailing behind the Getty, the Met, and Houston's Museum of Fine Arts.
The place looks the part, too, with two distinct wings separated by a stunning atrium. Designed by the award-winning architect Rafael Viñoly, it sports a three-story ceiling and wide, sun-bathed walkways — a gathering space you won't soon forget, and the pièce de résistance of the CMA expansion. Add in free admission and exemplary ticketed exhibitions, like a long sold-out Yayoi Kusama retrospective (running through September 30th), and the Rock 'n' Roll Hall of Fame suddenly has competition in terms of top draws for out-of-towners.
Fred Bidwell has been a key figure in Cleveland's resurgence for a while now, beginning with his role as the CMA's interim director in the fall of 2013. The former ad man is best known for Transformer Station, however, a sprawling gallery space Bidwell runs with his wife Laura, a graphic designer and video artist. Aside from hosting satellite CMA shows and curating photography exhibits from the couple's own collection, it's helped revitalize Cleveland's Ohio City neighborhood and provide a launching pad for Bidwell's most compelling move yet: FRONT, Cleveland's first contemporary art triennial.
Conceptual artist Michelle Grabner answered FRONT's call for a chief curator in 2015. Fresh off a biennial gig at the Whitney in New York City, she was eager to embrace FRONT's grand ambitions as part of a bigger movement across the Midwest.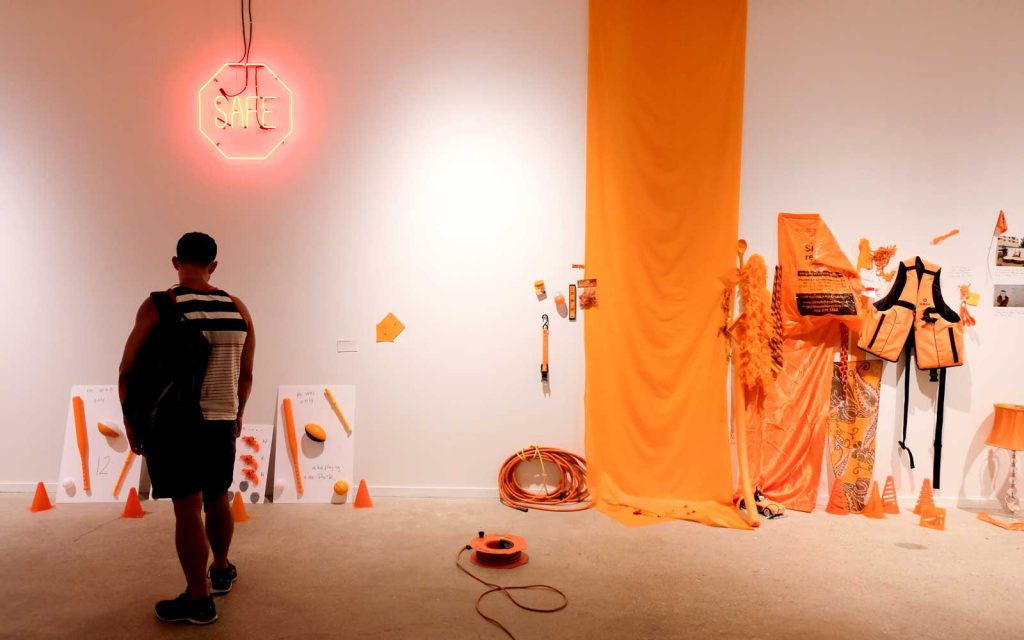 "I believe off-center cities are the future," says Graber, who's spent decades teaching and practicing art in Chicago, Madison, and her current home, Milwaukee. "They're where America's cultural imagination will flourish, offering affordable spaces for artists and entrepreneurs that New York and LA cannot. Mid-size American cities also wear their civic structure on their sleeve; it makes one's engagement in the community meaningful, apparent, and immediate."
FRONT reflects that pivotal relationship in its timely, politically charged theme: "An American City," which has been captured at dozens of venues across Cleveland and nearby Akron and Oberlin since July. Not just traditional museums and galleries, either; FRONT has blurred the line between art and commerce, the sacred and secular, at such idiosyncratic spaces as St. John's Episcopal Church, the Federal Reserve Bank of Cleveland, and a cavernous steamship at the Great Lakes Science Center.
This is not an exhibition you knock out in an afternoon; it's a citywide takeover worth building an entire trip around. This year's festivities wind down on September 30, so time's a-ticking, but it's never too early to start planning for 2021. Here are more ways to "dig that sweet Cuyahoga glow", both during FRONT and beyond:
The flagship location of FOUNT, the city's premier leather goods store, could be picked up and dropped in New York's SoHo district without anyone batting an eyelash. In fact, it'd probably flourish, drawing a devoted following to the luxe handbags and full-grain leather goods that are designed, cut and sewn by a tight-knit team in downtown Cleveland. And to think Phillip and Jackie Wachter launched the production line in their own living room.
If you're looking for locally produced coffee, head to one of the many Rising Star or Phoenix locations that are spread throughout the city. Pour's only cafe looks elsewhere, leaning toward light and bright roasts from as far away as Denmark (La Cabra), Norway (Tim Wendelboe), and Sweden (Morgon). Got a friend who reads Sprudge every morning and owns nearly every issue of Standart and Drift? Take them here, or bring home a bag of single origin beans they'll have a hard time finding elsewhere.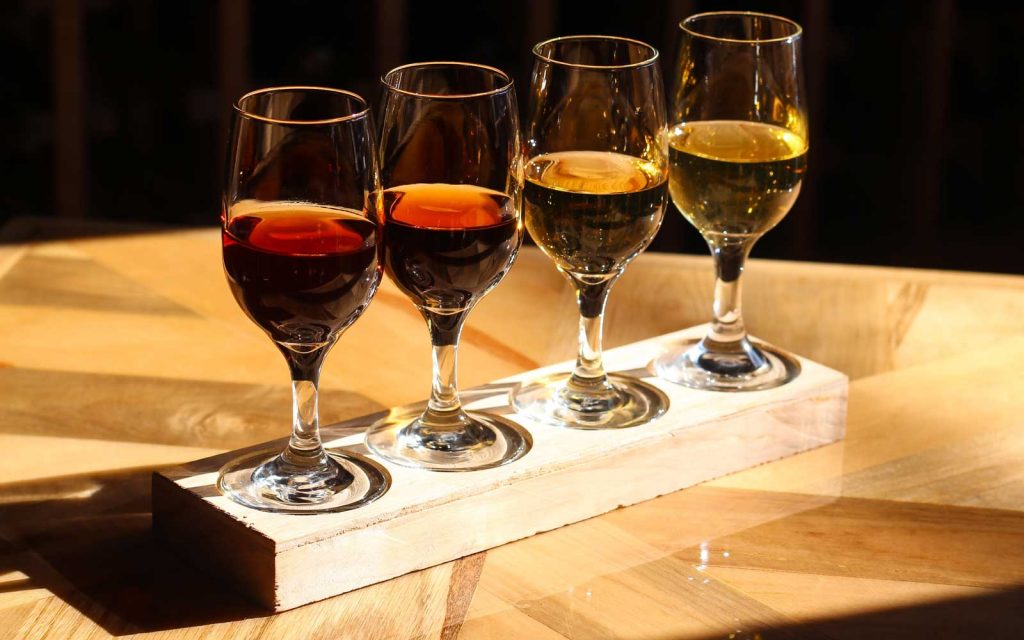 Leave your Game of Thrones fantasies at the door of this modest but inviting tasting room. Co-owners Douglas Shaw and Jason Andro spent more than a decade perfecting their mead recipes, and they're as refined and rewarding as anything you'd find at a serious wine shop. So, no, you won't be sipping fermented honey sizzurp from a Viking horn in here; Western Reserve has more of a "sit back and savor what you're sampling" feel. Which shouldn't be difficult; upcoming releases include star thistle honey blended with local strawberries and basil, and a Polish-style Trojniak aged on raspberries and French oak for a full-bodied finish.
Great Lakes Brewing Company
Ohio's first microbrewery is still a pilgrimage site for craft beer completists who want fresh pours of the brewpub's proprietary blends: a saison pelted with pink peppercorns, ginger, and gobs of passion fruit puree (Sa Da Tay); a dunkelweizenlaced with a local cold brew, Belgian chocolate, and orange peel (Guardian Blitz); and an imperial stout that was infused with cocoa nibs, salt, and oysters as part of Great Lakes' 30th anniversary this past summer. If you're looking to see more of Cleveland's burgeoning craft beer scene, ask for a free brewery passport and start getting it stamped at stellar new-schoolers like Terrestrial Brewing Company and Noble Beast. Or if you dig beer and doughnuts, you can pull a full Homer at Brewnuts, which incorporates local stouts, porters, and IPAs into its one-of-a-kind fry cakes.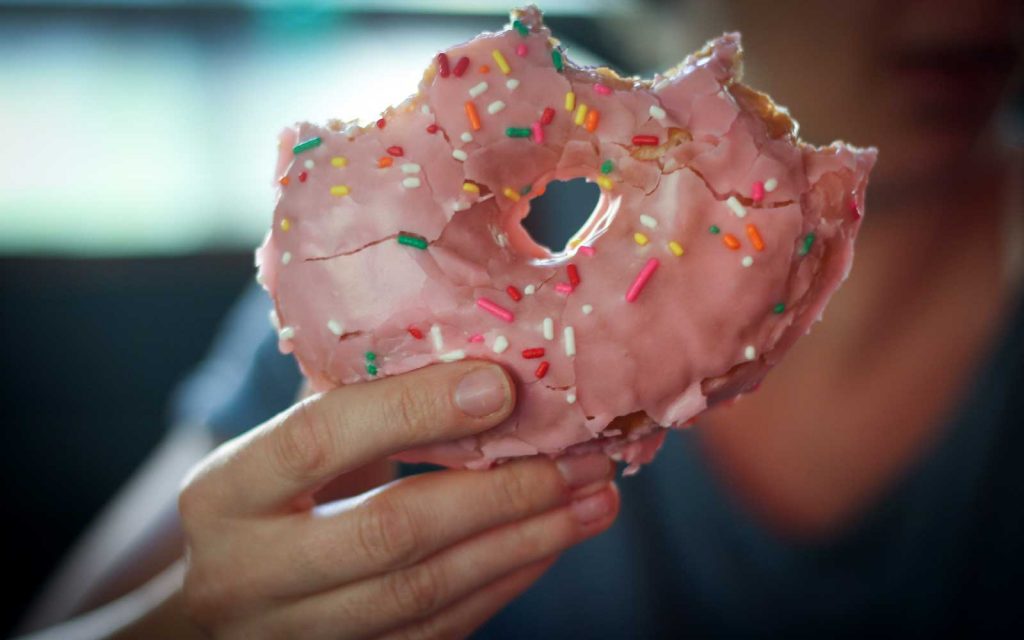 It's one thing to taste the small-batch ice cream you're about to eat, but it's another thing entirely to see it being made. The spotless Mitchell's headquarters in Cleveland's Ohio City neighborhood welcomes guests to the back to watch. Artisanal Ohio ingredients are turned into creamy house concoctions like Porter Chocolate Chunk, Campfire S'Mores, and Wildberry Crumble. Several tubs are devoted to vegan, yogurt and sorbet options as well, or you could just throw caution to the wind and opt for an original sundae topped with homemade whipped cream, locally roasted nuts, and hot fudge.
This loving tribute to Chef Jeremy Umansky's childhood on Cleveland's East Side features a flawless pastrami sandwich, a rotating selection of freshly prepared and pickled sides, and such Jewish bakery staples as buttery rugelach and soft black and white cookies. Larder is not tethered to deli traditions, though; Umansky cures his brisket with koji mold — a crucial umami bomb in Japanese cuisine, found in everything from soy sauce to sake — and brews a beautiful, well-balanced root beer with locally foraged mushrooms, sassafras, and birch.
Sokolowski's University Inn
The lunch line is always long at Cleveland's oldest family-owned restaurant. And for good reason: its familiar Polish food is free of fuss and full of flavor, especially the sautéed potato and cheese pierogies that land on your table with a thud, swimming in butter and begging for sour cream. Everything is served cafeteria-style, which means you don't have to make the stressful decision between smoked kielbasa and fresh bratwurst; try both, and have a Salisbury steak for dessert. If it was good enough for President Clinton and the president of Poland, why not right? (They've both stopped by Sokolowski's, along with Kevin Bacon, Jimmy Fallon, and the James Beard Foundation.)
"Farm-to-table" fare is taken to another level at this seasonal restaurant in the Gordon Square Arts District. Chef Ben Bebenroth pulls key ingredients from his own perfectly maintained 13-acre plot in the nearby Cuyahoga Valley National Park, and rounds out the rest of his menu with foraging trips and other forms of sustainable agriculture within a 150-mile radius. Everything is excellent here, so if you're indecisive, go with the $60 tasting menu ($90 if you want a wine pairing with every course, which you probably do). Standout dishes include the shiitake mushrooms, stuffed with bamboo rice and served over summer squash "soba" noodles, and a roasted peach cobbler rounded out by candied pecans, dropped biscuit dough, and Ceylon cinnamon ice cream.
When chef Brett Sawyer was brought on to head up the kitchen at the Plum, he ran with a format that was long overdue in Cleveland: refined share plates without the sticker shock or stuffy atmosphere. "As we developed the concept," he explains, "we were definitely looking to bring something new to the dining scene." He's being modest; Sawyer — no relation to Jonathon, his former boss — is fast becoming the most exciting name in the city's strong pool of New American restaurants. His boundless creativity is best experienced through daring fruit and vegetable dishes (mole-cured carrots with crème fraîche and fish sauce brittle, anyone?) and show-stopping mains, like "fast food-style" short rib tacos with house-made buttermilk ranch tortillas, Amish cheddar, Certified Angus Beef, and, of course, shredded lettuce. If you only have time for one high caliber dinner here, make it this Ohio City favorite.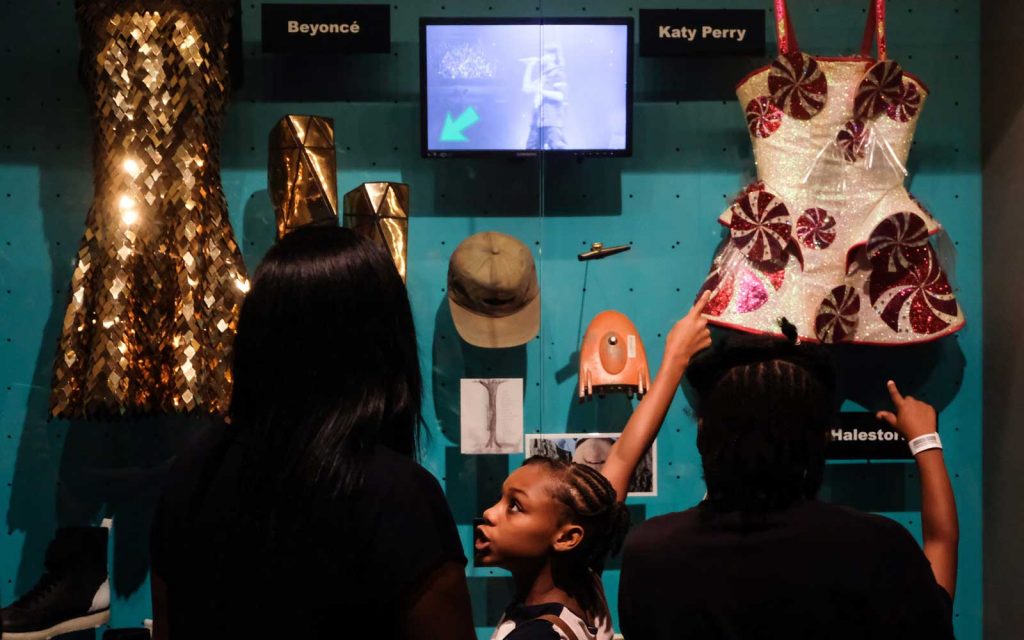 Look, there's no way around it: the Rock & Roll Hall of Fame is a big draw for anyone who's never been to Cleveland, with an overwhelming collection of memorabilia that covers everyone from David Bowie to Beyoncé. So don't be a cynic — set aside one afternoon to make your way through its many floors, including a can't-miss survey of pinball machines inspired by iconic musicians like Dolly Parton, Alice Cooper, Elton John, and Metallica. Or if you still can't justify a $23 ticket, snap a few shots of the Hall's I.M. Pei-designed exterior, then hop in a car and head straight for the Superelectric Pinball Parlor in Gordon Square. Co-owner David Spasic was hired to maintain the Hall of Fame's exhibit thanks to the reputation he's built here among a cultish silver ball collection from the '70s, '80s and '90s.
Now in its 40th year and a new 9,300-square-foot location — owned by the Bidwells, oddly enough — SPACES is arguably Cleveland's most influential contemporary art gallery. It's certainly a FRONT standout, with a group exhibition (A Color Removed) of local artists who face the city's fraught history head-on. Namely the pain, uncertainty, and fear many still feel from the fatal police shooting of Tamir Rice. Iraqi-American artist Michael Rakowitz also asked the public to donate orange items as a sign of solidarity with the 12 year old, whose toy gun was missing the orange tip that would have otherwise deemed it "safe". Captivating and cutting, it will linger with you long after you've left town.
What Cleveland lacks in hipper-than-thou boutique hotels, it makes up for with this pristine downtown property (named for the building's architect, Levi Schofield) and its unbeatable central location. Kimpton pumped $50 million into restoring every inch of the 122-room hotel, which is just a short walk from Progressive Field and several popular restaurants (including the aforementioned Greenhouse Tavern and Michael Symon's Lola Bistro). Be sure to stop by Heinen's, a solid grocery store that just happens to have a stained glass ceiling and 13 murals by painter Francis Millet, who died on the Titanic.