It's hard keeping up with Wirt Bellue sometimes—mentally and physically. Maybe it's because the retired police captain spent 31 years climbing the ranks and running two reputable businesses (a custom welding shop and the peerless lunch plates of Bellue's Fine Cajun Cuisine), but it's as if the gears in his restless 73-year-old brain never run out of grease.
Judging by the first time we talked to the Baton Rouge native, they don't. If anything, they gain even more traction once Bellue realizes a live one just walked through the screen door. On most days, that means someone who doesn't work at the sprawling ExxonMobil plant down the street (the fourth largest oil refinery in the country, and twelfth largest in the world) or live in this lonesome, deeply industrial stretch of Louisiana. They bring out the best in Bellue's pyrotechnic personality, and his tendency to treat visitors like old friends rather than new customers.
"Entertaining people means a hell of a lot more to me than the money," he says. "Like a couple women came here from New York recently… They were a little standoffish at first, so I said, 'Y'all come up here! What are y'all doing in my neighborhood?' I gave them the 50-cent tour of the block here, and I swear to god, they damn near wrote a book about me. It was so nice."
These days, that's how most outsiders discover Bellue's counter service café: via revelatory online reviews that call the local staple a heaven-sent hole-in-the-wall, and Bellue the reason they started traveling in the first place—to meet the kind of characters that only exist in movies. It certainly helps that the self-taught chef isn't shy about giving out samples of the recipes he's spent five decades refining, from lean-yet-lovely cuts of fried boudin to buttery-smooth pralines Bellue swears are better than the grainy versions he's seen on New Orleans shelves.
"If I make you a batch of candy and it comes out like that," he says, "you're never gonna know it, because I'm gonna throw it away. To me, the New Orleans praline is just a sugary piece of candy—a flop, a failure."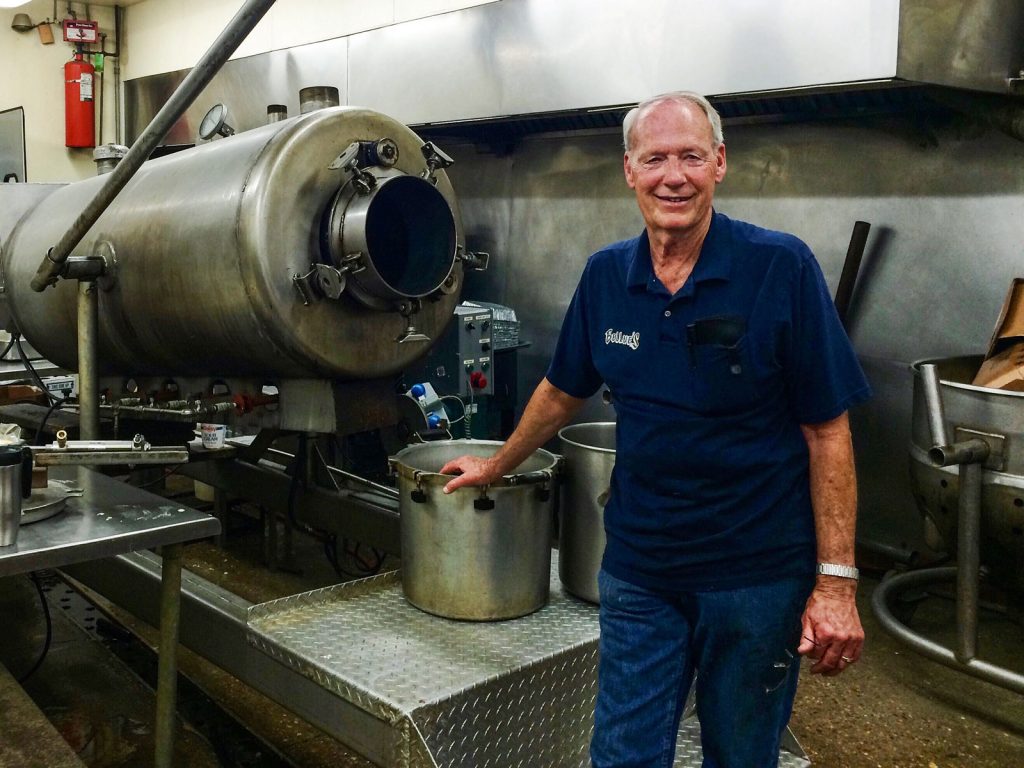 That may sound like fighting words in a region that takes its restaurant culture as seriously as stiff cocktails and century-old dance clubs, but Bellue isn't being an Internet troll here. He's trying to make a point: that the mere act of offering po' boys and pralines doesn't mean they're actually good. Iconic food items kind of sell themselves, leaving a person to wonder what's more important: profit margins or pride.
Bellue doesn't just welcome criticism. He chews on it for a while, and adjusts his baker-like recipes—everything is weighed out in grams, from meticulous spice mixes to heavenly tasso ham—accordingly.
"One thing we hardly get—which is totally unheard of in the food business—is a complaint," says Bellue. "And if we do—if a customer says something is too salty or peppery—you're not gonna get out the door. I'm gonna come right over there and make things right. Because you don't get to where I'm at overnight; I've worked my entire life addressing every crack and crevice of this business."
While Bellue certainly isn't the food industry's first perfectionist, he may be the only one that has a patented, temperature-controlled batch cooker—capable of tackling anywhere from 600 to 1,000 pounds at a time—in the middle of his kitchen. That missle-shaped contraption is why Bellue's Fine Cajun Cuisine makes Baton Rouge's best gumbo, crawfish etouffee, and highly sought-after specials like pork-laced deer chili. Not to mention 16 daily side dishes that are vacuum-sealed and flash-frozen at peak freshness, then cooked sous-vide style in 189-degree, 200-gallon vats that'd make Bill Nye the Science Guy blush.
In a lot of ways, Wirt Bellue is the Wylie Dufresne of Baton Rouge—as obsessed with the quality of his products as the process itself, whether that means hand-squeezing lemons for his popular icebox pies, getting up in the middle of the night to put slabs of pecan wood in a smokehouse out back, or testing far-too-many varieties of masa meal for a hot tamale.
"I don't get as excited now since I've been doing it for years," says Bellue, "but it's very rewarding when you put a white rack of deer sausage up in that [smoker], you put those logs on there, and there's this beautiful-looking maroon product the next morning. To this day, it's more of a hobby that makes me happy than a business."
The foolproof methods behind all this madness also ensure something that's missing in many of Bellue's competitors: consistency.
"If you eat something here today, and then come back again a year from now, it's not going to be close. It's going to be exactly the same thing.
"So if you didn't like it," he says with a smile and sly chuckle, "don't bother coming back… Unless I find some way to make it better."