The following story is taken from October, the craft beer site Condé Nast and Pitchfork Media shuttered in early 2021.
"Have you ever tried Pliny the Elder?" asks Pipatnapon "Piek" Pumpo, the founder of the influential Bangkok bar Let the Boy Die.
As soon as I say I have not had the Pappy Van Winkle of the craft beer world, Pumpo heads straight for the cooler at his new taproom Goldencoins and pulls out the imperial IPA in question. All hopes for an impromptu tasting quickly fade, however, as Pumpo hands over an empty bomber. Turns out he keeps it here, popped cap and all, as a hops-scented reminder of why he got into this business.
This happens a lot here. Not people teasing you with long-drained lagers so much as serious bartenders and brewers proudly displaying hard-fought hauls of high octane beer — rare around these parts due to extortionary tax rates and government efforts to rein drinking in entirely.
"It seems like the excise department and customs are doing everything they can to work against you," Jakob Mørkenborg Rasmussen explained in a Condé Nast Traveler story a couple years ago. (Rasmussen's the founder of the leading importer Hopsession and the co-owner of Mikkeller Bangkok.) "If there's one mistake on a piece of paper, they'll point it out and tell you to start over."
And yet there's no denying the steady growth of Thailand's craft beer scene. These days, many born-and-bred BKKers will be the first to tell you how terrible Chang and Singha are, then debate the merits of pale ales and IPAs. This is why you'll now find Thai-centric tap lists at low-key spots like Yolo and The Bar Has No Name.
Not to mention the following six leaders of Bangkok's new school….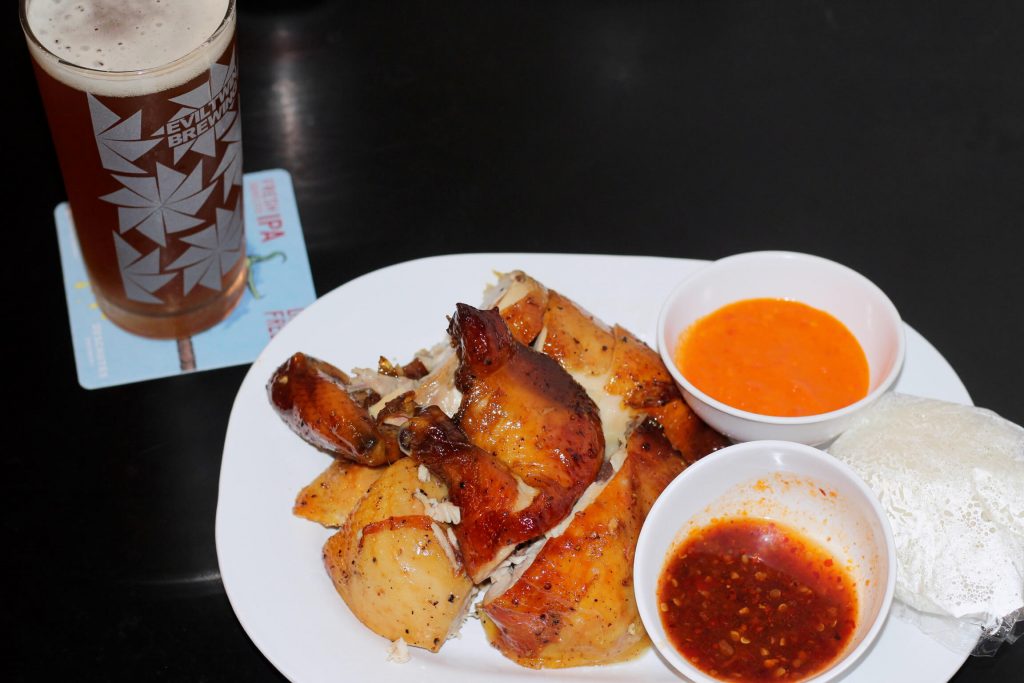 The Singapore natives behind Bottles of Beer kept just 50 items in stock when they opened last year, but their range of top-rated tipples is already around 400 now. Co-owner Ruan Lim is quick to credit a few things: Bangkok's emerging middle class, the rise of 'influencers', and the shop's innate sense of community.
It's clear the second you sit down at its slender communal table and notice the lack of TVs and loud music. The art of actual conversation is celebrated here instead, as customers are encouraged to linger over street food staples like glistening, honey-grilled chicken served with sticky rice and a bless-this-mess burger featuring duck leg confit, onion marmalade, crispy duck skin, arugula, grilled onions, and gooey cheddar cheese.
"There is nothing more important than experiencing something great with like-minded people," says Lim. "That is why we maintain a no-entertainment environment and push people to talk to one another. I've travelled a lot, but I've heard more stories from expats, locals, and travellers in this past year at BOB than all my life. It's a pretty interesting place to be at; in fact, we seldom go anywhere else."
Drink This
Anything by Sandport, as they're the one local brewery with a bottling line that doesn't shy away from bitter hop bombs. (The Thai palate tends to be sweet when it comes to drinks; something's gotta counter all those chilies!)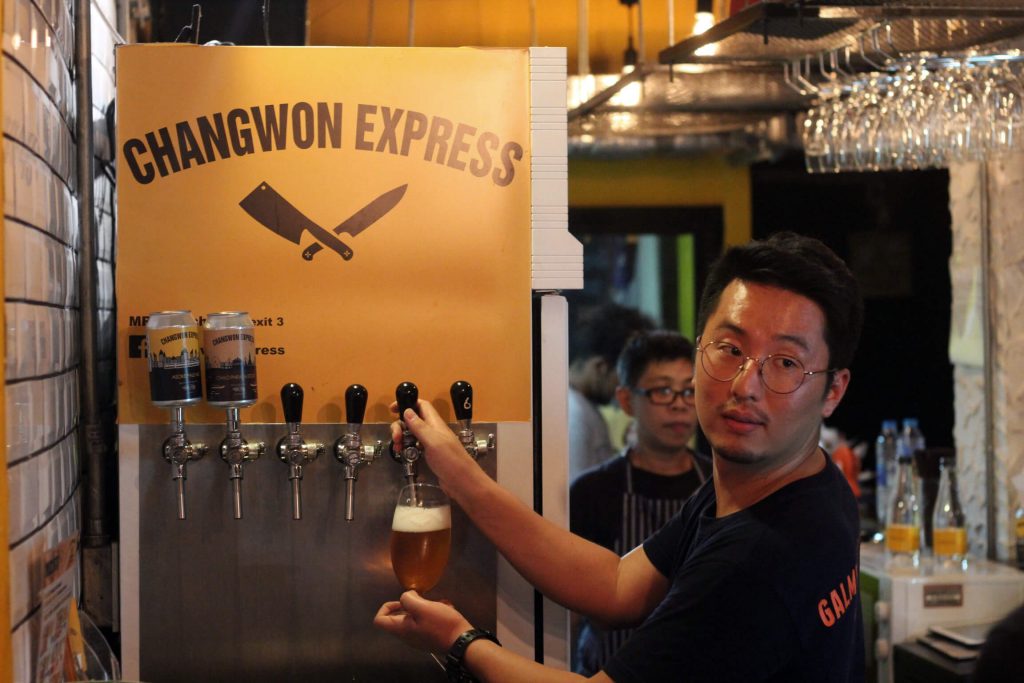 It took Changwon Express owner Ted Ahn about three months to realize that running a restaurant isn't as easy as it looks on reality TV. It is rewarding, however, especially when compared to Ahn's last job: the cutthroat field of construction.
"It wasn't pretty," he says. "I got fed up with it and looked for an industry where I can make a living out of making people happy."
Named after the coastal South Korean city where Ahn was raised, Changwon Express feels like a secret hideaway from the bustling subway station next door. The menu is mostly bar food with a Korean-Mexican slant (hellloooo kimchi tacos!) — simple yet suited for the six Thai and three import drafts Ahn keeps in rotation.
If everything goes according to plan, it'll eventually turn into a taproom for Changwon Express' own beer, including a juicy pale ale named after the area's traffic jams and a coffee/chocolate stout modeled after the muck of the Chao Phraya River. Both of which are brewed in South Korea due to laws that favor macro-breweries. (You have to produce more than 100,000 liters per year and have at least 10 million baht — around $286,000 — in the bank to legally brew craft beer within Thailand.)
"The craft beer scene used to be all homebrews until last year," explains Ahn, "but Thai companies are now making commercial batches and transforming their passion into business. We hope the popularity of craft beer will change the law soon. The more people drink, the more power we will have."
Drink This
Aside from Ahn's own smooth brews, there's usually at least one rising Thai brewery on tap. Encourage their experiments by kicking that keg.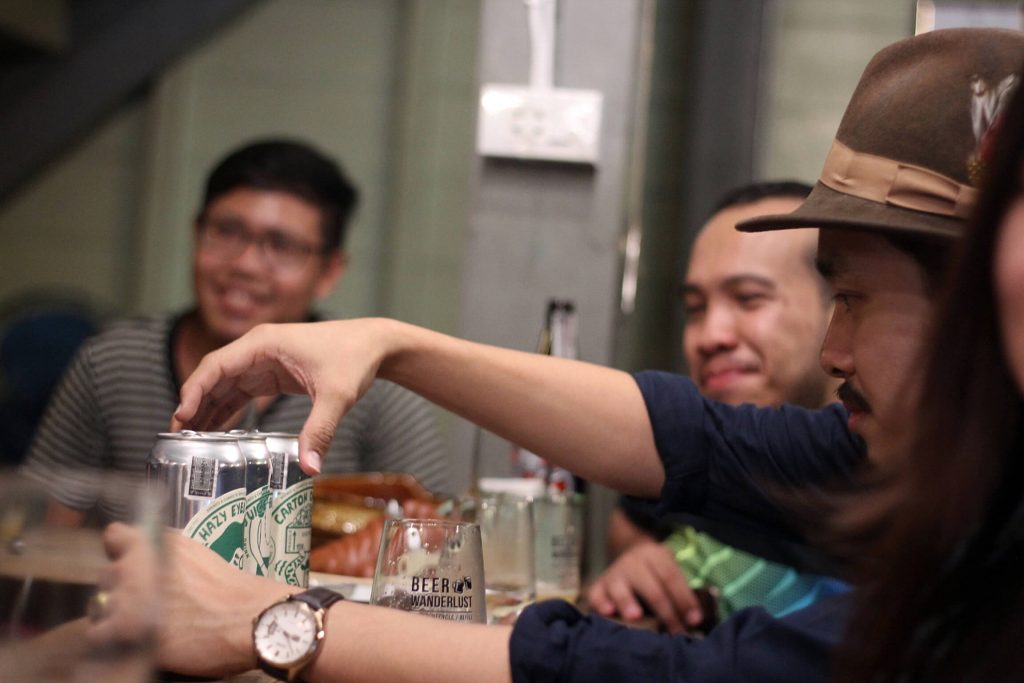 The first thing everyone does at Dok Kaew House Bar is take off their shoes. Don't worry about leaving your limited kicks outside, either; while the crowd is mostly Thai and English is rarely spoken, it doesn't take long to feel like you're part of the family.
That's by design. According to co-owner Prapavee "Bamee" Hematat, "We do everything ourselves; we sell, we serve, and we ask the customers what they like and don't like. Then we adjust everything accordingly. It's in our nature to make friends here, and help remove the masks people wear all day."
It certainly doesn't hurt that Dok Kaew's high ceilings, creaky floorboards, and beat-up furniture suggest a space from a bygone era. Some have even called the nearly century-old building "Bangkok's only haunted bar", a claim Hematat denies.
"They're just kidding," she says with a smile. "When you come visit us, you'll realize we're not scary at all."
Drink This
Nectar's Single Origin Coffee Stout — about as bold as a beer-y speedball gets — or Flora Wheat Ale, which is brewed with four types of organic flower tea.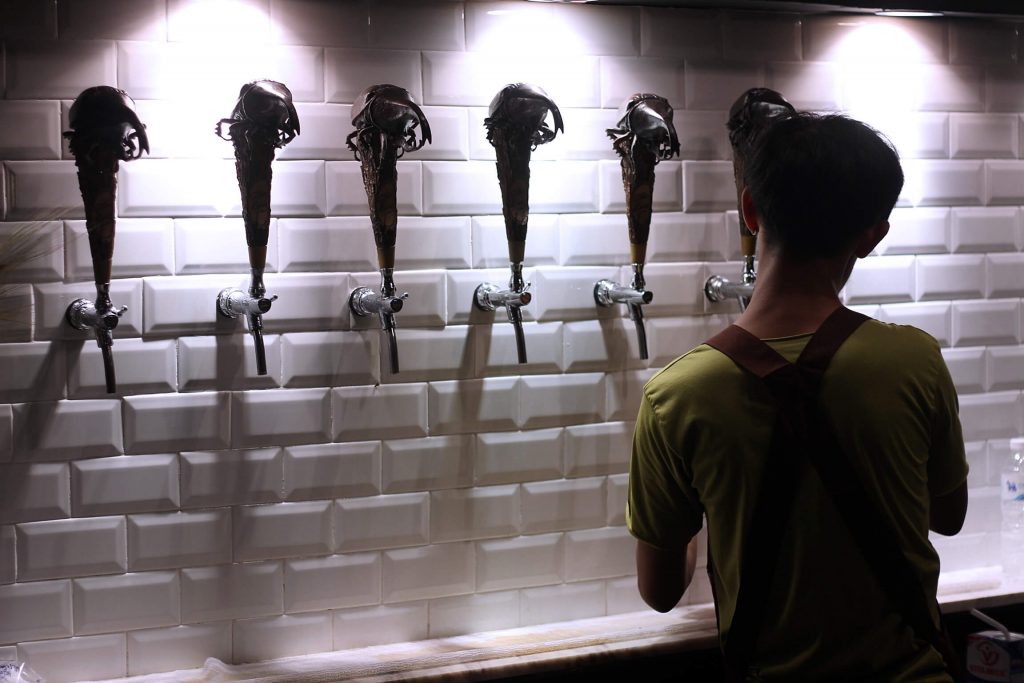 While most of Thailand's legal brewers have focused on bottling their beer, Goldencoins is about as close as Bangkok gets to a proper taproom. Owner Pipatnapon "Piek" Pumpo ensures that everything is fresh and faithful by visiting a production partner in Saigon once a month.
Between that commitment to quality and one hell of a happy hour, this is one of the best places to check Bangkok's pulse via a meticulously poured pint. Goldencoins' six draft lines are going to double in the months ahead, too, a promising reflection of the neon "LET'S FILL THIS TOWN WITH CRAFTBEER" outside.
Drink This
Start with Goldencoins' signature pale ale — Yaowarat, named after its Chinatown beginnings — then order a round of whatever Pumpo's toying with this week. During my visit, that meant a Cherry Mint Red Ale with a clean, refreshing finish.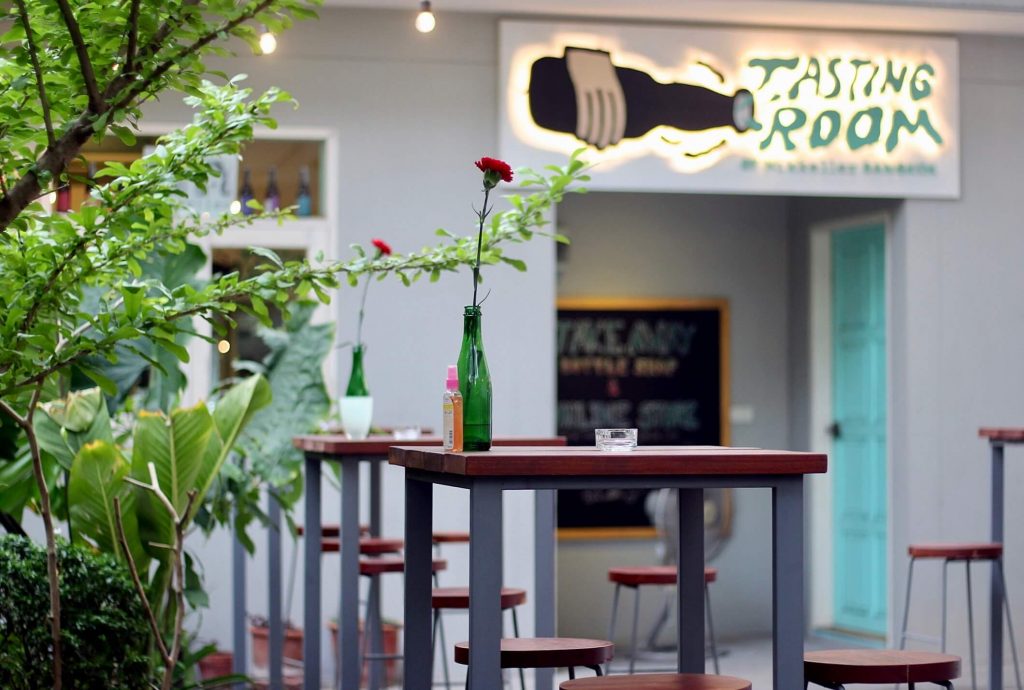 When the world renowned gypsy brewer Mikkel Borg Bjergsø¸ decided to make Thailand Mikkeller's first brick-and-mortar bar in Asia, I had one simple question: Why? After all, the scene was still relatively small back then, and Mikkeller's Ekkamai location is arguably the most elusive in central Bangkok.
"I think it's cool that people have to look for it," he countered in Condé Nast Traveler. "I always feel relaxed when I'm there. And I love to take my family, which is something I don't do with my other bars."
It's also welcoming for a growing number of craft beer newbies, something Bjergsø¸ has stressed from the very beginning. "It's important for my bartenders to understand that someone who's tasted 30,000 craft beers, and the person who's never had one before should be treated equally."
If you're more of a nerd, Bjergsø's business partner (importer Jakob Mørkenborg Rasmussen) has got you covered too, of course. This is the only bar in Bangkok where you'll find rare kegs flown in from 3 Floyds, Boxing Cat, and Mikkeller's own San Diego brewery. Not to mention exclusives like a heady stout brewed with the world's most expensive coffee beans (Black Ivory, which pulls its product from pampered elephants in Northern Thailand).
Drink This
Ask your bartender actually. Mikkeller's 30 (!) taps are constantly changing, and feature some of the cleanest, freshest lines in town.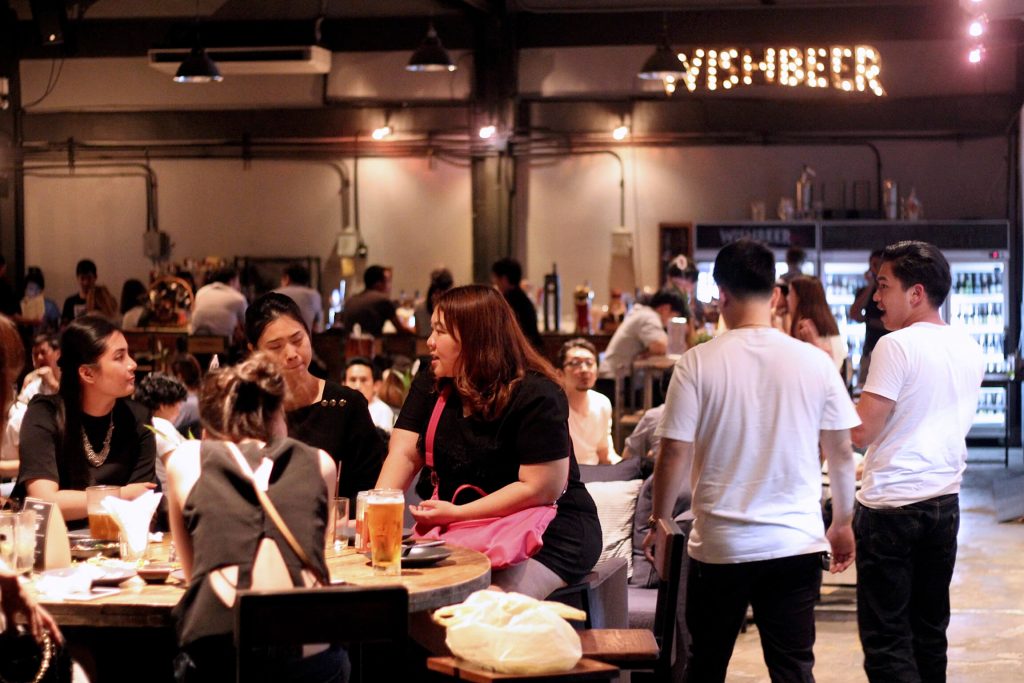 Jerome Le Louer started Wishbeer for selfish reasons in 2013; while craft beer was available in some bars and restaurants, the selection at supermarkets was abysmal (a Heineken here, a Hitachino Nest there). Wishbeer's current location doubles as the warehouse for Wishbeer's thriving delivery service and one of Bangkok's most popular beer-centric bars, with regular tap takeovers from rising markets like Vietnam (Pasteur Street Brewing Company), Italy (Birra del Borgo), and the Netherlands (Brouwerij De Molen).
As for supporting Thailand's own tangled network, Le Louer says, "We want to help Thai brewers promote themselves, as they will be the ones shaping the local market for the next 5-10 years. We want to promote good beer — simple as that. We have a few exotic or special beers, but our focus is on offering a good selection of beers at a good price."
Drink This
Either a flight special or something from the well-stocked cooler up front.